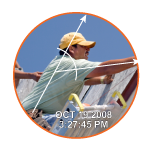 BEC Biomechanical® offers expert, data-based conclusions from your surveillance video. The BEC Biomechanical® Hard Data Protocol (HDP®) process consolidates surveillance video to the important images that "tell the story" better than a lengthy report. The analysis is scientifically definitive and defensible.
Science for Surveillance®
Our HDP® process is factual, and objective. There are no "wishy/washy" or subjective opinions.
Our analysis substantially reduces reviewer time/expense by eliminating hours of needless videotape review. The reviewer gets a "picture worth a 1000 words."
Key benefits:
Takes subjectivity out of evaluation by providing quantitative information to explain an individual's ability to perform work tasks
Scientifically demonstrates the impact of an injury on work-related postures/positions
Saves time and money by identifying high value images for quick/easy review by medical or legal professionals
Turns surveillance tapes into evidence-based, scientific exhibit material and disability analysis make his expert testimony both definitive and understandable.
Maximizes impact of surveillance expenditures